Disclaimer: In this comparison guide, Galvin shares his thoughts on how the Hydragun Product Team designed the Hydragun Atom from scratch, how it has made certain decisions & trade-offs during the product design process, and how each gun compares to each other based on different criteria.
​
While Galvin will probably be biased as he is an employee of Hydragun, he will try to be as objective as possible in this comparison guide and will stick to the facts. If Galvin makes any statement that is subjective and is a matter of his personal opinion/preferences, he will note that as well.

The Hydragun Atom that we were using at the time of comparison was 4 months old, while the Theragun Mini 2.0 was brand new.
The product team's primary objective was to design the perfect massage gun based on current technology, and to strike a fine balance between price and features.
More importantly, one of our key design goals was to come up with a massage gun that is different and can stand out from the sea of massage guns in the market. We weren't trying to make another Theragun Mini or Hypervolt Go - we wanted something unique that we could call our own.
Comparison Guide:
Hydragun Atom vs Theragun Mini 2.0
The Atom mini massage gun is the latest addition to Hydragun's arsenal of products. In this guide, I will be comparing it against the most popular mini massage gun in the market today - the Theragun Mini 2.0. Both massage guns were released in the second half of 2022.

I will be comparing both massage guns based on these 4 most important factors:

After that, I will recommend the best massage gun for you,
based on your personal needs & body type.
Both massage guns are currently retailing at $199 in the United States and have similar prices in other countries such as Australia, Canada and Singapore
prices are subjected to change, depending on discounts offered or exchange rate fluctuations
However, Hydragun is currently absorbing sales tax for customers in the US, AU and SG.

Therabody is currently charging a sales tax for US customers, depending on the state they live in.
For example, customers who wish to purchase a Theragun Mini 2.0 will have to fork out extra in the following places:
Los Angeles, CA: $18.91

Austin, TX: $16.42

Miami, FL: $13.93
​
In this section, I will assess features of both massage guns that allow them to perform what they were built for - to provide powerful, yet relaxing massage experiences for their users.
The power of a massage gun can be assessed by 3 main factors:
A larger motor allows for a massage gun to provide deeper massages, with a deeper amplitude and the ability to withstand a larger force before stalling.

However, massage guns with larger motors will usually end up being slower in speed and will produce a louder noise.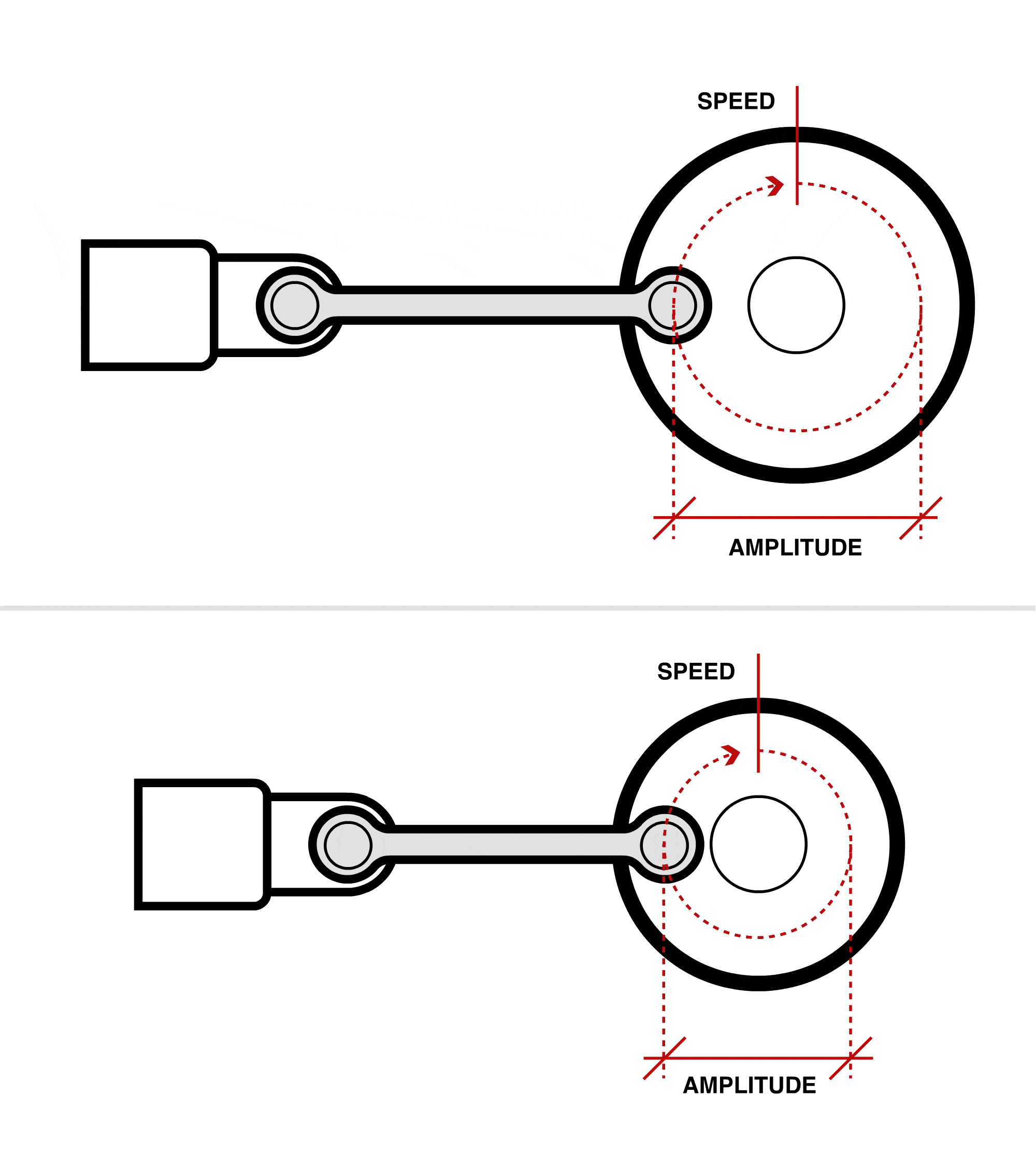 3 speed settings:
1800, 2400, 3200 PPM
3 speed settings:
1750, 2100, 2400 PPM
*Similar to the Atom's




Therabody has not published its official stall force stats



*Therabody did not publish the Theragun Mini 2.0's stall force specs. During my own internal testing, I found the stall force of both massage guns to be almost the same.

Measurement: I bought an industrial-grade weighing scale that is ideal for dynamic weighing with a capacity of 200 kg, and an accuracy of +/-0.05 kg. I tested each gun on each of its 3 speed settings and both massage guns had a stall force of +/- 0.2 kg.

I will not be posting the specific results for each test as my

testing methodology was not accredited by any means

. It was simply meant to allow me to estimate the Theragun Mini 2.0's stall force, relative to the Hydragun Atom's.

I allowed several family & friends to test both massage guns during the research process for this article, and most people agreed that they were both similar in strength and power. From my own personal experience of using both guns, I felt that they were similar in strength's

Discla
First-time buyers of massage guns often underestimate how the noise produced by a massage gun could potentially ruin the whole massage experience.



From my experience with testing and using dozens of massage guns, I discovered that having a quiet massage gun makes a big difference in terms of user experience.
Not only would you want to avoid choosing a massage gun that has a higher decibel level, but also one that emits a harsh, rough sound that may be

jarring on the ears like a power drill

.

What I would recommend instead is to pick a massage gun with a

smooth buzzing sound
The Hydragun Atom operates at around

50-55 dB

, depending on the speed selected and it produces a smooth, dull sound, making it one of the quietest massage guns in the market today.

On the other hand, the Theragun Mini 2.0 produces

what felt to me, a louder & rougher sound

.




* Official decibel levels have not been released by Therabody and are not displayed on the Theragun Mini 2.0 product page. I do not have any professional acoustic equipment or any accredited means of testing for sound levels and pitch, so I'll just provide a video of each massage gun at all 3 different speed settings, with the sound recorded.



This video was filmed with an Android phone in a single take. The audio in this clip has not been modified in any way.
In my opinion, those looking to purchase a mini massage gun should pick a quieter one, especially if they intend to use it at places with other people (e.g. work desk at the office, public gym, home with other housemates or family members), to avoid being a nuisance to others
Worst still, if you're just trying to relax and unwind after a tough day at work, the worst thing you want to be listening to is the piercing blast of a loud massage gun, which detracts from the massage experience.
Our customer satisfaction team also conducted a survey with our customers last year regarding their usage behavior. What we discovered was that many of our customers tend to use it while

watching TV

.

For such users, having a massage gun that is quiet is important, if you're trying to hear what's going on in your favorite show or news program.
​

The Hydragun Atom has a longer battery life of 5 hours, allowing users to use it for 30 ten-minute sessions before having to recharge it.

The Theragun Mini 2.0 has a much shorter battery life of 2 hours, which only allows for 12 ten-minute sessions before recharging.
If you intend to travel a lot or use the mini massage gun outside of home, having a longer battery life becomes that much more important as you may not have easy access to a power outlet when you're out at the gym, or somewhere in the wilderness.
Both massage guns come with 3 attachment heads, allowing for a more customizable massage experience.

2 of them are fairly similar to one another - The Hydragun Atom's comfortable ball head vs the Theragun Mini 2.0's standard ball head, and the Hydragun Atom's deep bullet head vs the Theragun Mini 2.0's thumb head.
However, the Theragun Mini 2.0 comes with a dampener head which Therabody suggests allows for a softer massage experience.





On the other hand, the Hydragun Atom has a solid aluminium head that can be chilled if one wishes to experience a cooling massage instead.
In this section, I will compare both massage guns based on their build material & aesthetics, size, weight and ergonomics.
prices are subjected to change, depending on discounts offered or exchange rate fluctuations
Build Material & Aesthetics
In my opinion, the Hydragun Atom has a sleek, metallic finish as it is made of aerospace grade aluminium. Its metallic chassis also acts as a noise dampener, helping to reduce the amount of noise produced by its motor.

The Theragun Mini 2.0 is made of ABS plastic, and I found that it has a friendly, rounded appearance.
Both massage guns have very similar dimensions. They are both pretty small, highly portable, and can fit into most small bags. The Atom is

slimmer than a most soda cans

.

Hydragun Atom: 5.7 in X 4.7 in X 1.77 in (145 mm X 120 mm X 45 mm)
Theragun Mini 2.0: 5.55 in X 4.92 in X 1.93 in (141 mm X 125 mm X 49 mm)
The Hydragun Atom weighs slightly heavier (at 1.2 lb / 0.55 kg) as it is made of aerospace grade aluminium, compared to the Theragun Mini 2.0 (1 lb / 0.45 kg), which is made of ABS plastic, a lighter material.

I measured both massage guns with my own weighing scale and this confirmed the official weight specs written on both websites (refer to the YouTube video below)
The Theragun Mini 2.0 has a rounded, triangular shape that looks friendly and unassuming. It fitted decently well into my hands while I was testing it initially, but I feel that its triangular shape does not allow for a tight, firm grip as it is still a little thick.
On the other hand, the Hydragun Atom has a T-shape and is built with a

slim barrel

, allowing its user to wield it with a comfortable grip.

Its center of gravity is well-balanced too, enabling it to

stand upright on any flat surface

such as a coffee table or desk.
Many people suffer from sore backs after sitting at their desk for long periods of time. I wanted to see how each device fared, in terms of how easy it was for someone to use the mini massage gun to massage their own back.

While the other larger Theraguns have some of the best ergonomic handles in the game, I feel like the Theragun Mini 2.0 is lacking in this aspect.
I found that the Hydragun Atom felt wieldier to use compared to the Theragun Mini 2.0, especially when it came down to reaching my own upper and lower back. This is due to its

taller design

.

It was also

easier to hold a tight grip

for the Atom

compared to the Mini 2.0. This difference felt significant to me, as a firmer grip allowed me to press more deeply into my muscles (with less effort) to achieve that deep-tissue fascia release and pain relief compared to when I was using the Mini 2.0.
A petite female friend tried holding onto both guns and you can see the difference above
The Theragun Mini 2.0 provides users with an additional bluetooth app, armed with an entire library of personalised wellness routines.

The Hydragun Atom lacks such a feature - but we opted not to develop a bluetooth app for our current suite of massage gun products as we felt that it would cost too much for a feature that most users don't really need.
The Hydragun Atom is covered by an extensive 1.5 year warranty, compared to the Theragun Mini 2.0's 1-year limited warranty.

The Theragun Mini's batteries and attachments are only covered by a 90-day warranty.
Both the Hydragun Atom and the Theragun Mini 2.0 are well-made products that cater to slightly different target audiences.

I strongly believe that the Hydragun Atom is the better choice for regular users who are:
Physically active people
recovering post workout, reduce delayed onset muscle soreness
Looking to Massage away minor aches/pain after a long day at work
Dealing with chronic musculoskeletal ailments (plantar fasciitis/low back pain)
This is because the Atom is designed to be strong enough for most users, while still maintaining a friendly user-experience for them.

For power users, professional athletes and bodybuilders who need to go deep and go hard during their post workout recovery massages, I strongly recommend getting the larger sized massage guns instead.
All pricing and specs information besides stall force and sound level was obtained from Therabody's website
3 speed settings:
1800, 2400, 3200 PPM


✔️
3 speed settings:
1750, 2100, 2400 PPM


❌
Attachment
Heads
3 attachment
heads
3 attachment
heads
Build material
& Aesthetics
Sleek aerospace grade aluminium
Rounded appearance, made of ABS Plastic
5.7in X 4.7in X 1.77in
145mm X 120mm X 45mm)
5.55in X 4.92in X 1.93in 141mm X 125mm X 49mm
Shape &
Ergonomic Grip
T-shape, easier to grip

✔️
Round triangular shape makes it harder to grip

❌
1-year device warranty
90-day limited warranty for batteries &attachments

❌




Writer:
Galvin
Hydragun
Product Team